---
When A Permit Is Needed
New Applicants
Parking in a Residential Parking Permit Area
Parking Permit Portal
Reading a Residential Permit Parking Sign:
Decal Costs
Renew Your Permit
How to Establish a New Residential Permit Parking Area
---
Residential Permit Parking Areas are primarily to help secure available parking for a residential community while encouraging alternative parking plans for non-residents. Generally, these programs govern the parking restrictions in residential communities located near major employers, colleges, universities, medical institutions, and sports complexes.
When A Permit Is Needed
Resident parking permit restrictions apply to all vehicles not registered as a part of the Residential Parking Permit Program. These include:
vehicles that belong to friends and family of local residents, and
vehicles owned by residents but registered to an address outside of the neighborhood. 
The City's Residential Parking Permit Program does allow those residents with residential parking passes to purchase Guest/Visitor passes. These passes provide guest of residents the same rights and privileges as the permit pass holder for a single 24-Hour time period. If physical guest passes are purchased, they must be placed faced up on the curbside of the car and be completely filled out to be valid.
Guest passes cannot be purchased by a non-residential parking pass holder.
New Applicants
The office is in the Dillon Building at: 
310 W. Martin Street, Suite 109
Raleigh, NC 27610
Office hours: Monday - Friday, 8:30 a.m. to 5 p.m.
Download the Residential Parking Permit Application.
The following documents must be presented:
Valid driver's license;
A valid vehicle registration card for each vehicle for which the applicant is the principal operator; (No copies will be accepted) and,
Proof of residence, ownership or tenancy. If leasing, tenant must present a notarized affidavit signed by the landlord within the last six months or, any utility bills in the name of the applicant and Raleigh address.
Parking in a Residential Parking Permit Area
Citizens without a residential parking pass may park along streets that are a part of a Residential Parking Permit Program within the permitted timeframes posted. Parkers are only allowed to park up to one time on that residential permit block per day and hours are typically from 8 a.m. to 5 p.m. 
Every Residential Parking Permit neighborhood is different so please be sure to read the signs carefully and completely to avoid receiving a citation.  Each sign will have the neighborhood designation and the active parking restrictions.
Enter your address. Use the map below to determine your residential parking permit zone.
Parking Permit Portal
The City of Raleigh is adding an online portal option exclusively for residential parking permits - making it easier and more accessible to apply, renew and pay for your residential parking permit without leaving the comfort of your home!
Easily manage virtual parking accounts and track your permit history through Passport's online portal.
You no longer need to display a physical residential permit on your vehicle for the 2021 Calendar year cycle.
The digital system recognizes the license plate(s) tied to your account and therefore will not require to display a physical permit.
Reading a Residential Permit Parking Sign: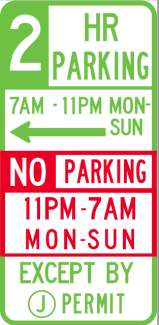 The example sign shows the following:
Any vehicle without a guest/visitor pass or valid Residential Parking Permit "J",  is allowed to park up to 2 hours max from 7 a.m. to 11 p.m., Mon - Sun.
Any vehicle without a guest/visitor pass or valid Residential Parking Permit "J", is not allowed to park between 11 p.m. to 7 a.m., Mon - Sun.
Any vehicles with a valid Residential Parking Permit "J" or guest/visitor pass may park along this section anytime as long as they have a valid "J" permit.
Signs that do not have time restrictions are in effect 24/7 and signs that do not have day-specific restrictions are in effect seven days a week.
If you should have any questions about parking restrictions, please feel free to call the Raleigh Parking Office between 8:30 a.m. and 5 p.m. Mon - Fri and our Customer Support Team will be happy to answer any questions.
Decal Costs
The cost for one decal is $20 per decal per calendar year. No pro-rated discount is given for a partial year.
Any outstanding parking citations must be resolved before issuance of a Residential Parking Permit.
 
Guest passes can be purchased individually online via the Raleigh Permit Portal at a cost of $.50 per permit, or may also be purchased at the Raleigh Parking office, 310 W Martin Street, Suite 109 - in books of 10 permits at cost of $5.00 per book.
Note: Raleigh Parking will no longer require motorists to display vehicle decals on their cars as a part of the Residential Parking Permit program.
In lieu of car decals, Raleigh Parking will use the vehicles license plate to manage residential permit holders that are a part of the program.
If requested, a physical decal can still be provided to the approved applicant.
How to Establish a New Residential Permit Parking Area