---
What is the water column?
Q&A with a Water Treatment Operator
---
What is the water column?
Do you wonder where your drinking water comes from? Are you curious to know what water professionals do? Have you ever looked at a glass of tap water and wondered how this wonderful clear liquid got to your home? These and many more topics will be covered in The Water Column. The Water Column is a new feature that will appear in 'Your Service Connection.'  
Did you know that 'Water Column' is a scientific term used to describe the space from the surface to the bottom of a water body? This can be in the ocean, the sea, or a lake. There are different zones within the water column and these zones are studied by scientists.  
The scientists at Raleigh Water study the uppermost zone of Falls Lake, called the photic zone. About 80% of our drinking water comes from Falls Lake. Raleigh Water scientists collect water samples to gather data on Falls Lake. This data is used to help optimize treatment processes at our water treatment plant. The water treatment plant is where the lake water is cleaned before being sent to your home!  
Q&A with a Water Treatment Operator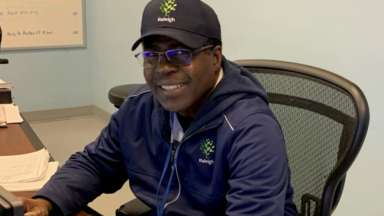 April Water Column Article
Would you be surprised to learn that it takes a staff of over 660 to provide 610,000 people with 24/7 access to water and sewer service 365 days a year? One of the most critical positions is the water treatment plant operator. They run water treatment plants to provide 52 million gallons of water on average per day to Raleigh Water customers. The water treatment plants here take lake water and clean the water using multiple processes. 
Below is Q&A with one of EM Johnson Water Treatment Plant operators, Luc. 
1. What is your job and what does it entail? 
I am a Senior Operations Specialist. My role is to take lake water and make it safe for customers to drink. We do this by monitoring plant processes. We use a secure computer system to monitor, operate, and adjust chemical feed systems needed for the treatment of the water. We conduct lab tests on water samples and keep water within set limits of state and federal regulations. We monitor the distribution system such as water tower levels, starting and stopping pump according to usage.   
2. What is something that would surprise people about your job? 
All the responsibilities involved in making the water safe to drink.   
3. How long are your shifts? 
My shifts rotate from 12 hours for part of the year, to 8 hours for the other part of the year. We always have staff at the plant 24 hours a day.  
4. How many water tests do you complete in one shift? 
About 65 lab tests in one shift. At the beginning of a 12-hour shift, I perform laboratory tests by collecting water samples from designated points. I check the pH, turbidities, alkalinities, Iron, and Manganese. I perform tests on the treated water every hour, Iron and Manganese tests every four hours by using combined filters and finished water, and turbidities of Pre-Treated, Pre-Filters, combined filters effluent and finished water every four hours. 
5. What is your favorite part of the job? 
Treating water for over 610,000 customers by making good tasting, safe water for the customers is my favorite part of the job. 
6. What kinds of decisions do you make?  
Everything we do is based on the water quality coming in the plant and many times decisions must be made quickly. Treatment decisions are made based on situations such as variable water usage or main breaks. 
7. What was the most memorable moment that happened on the job? 
During a meeting my supervisor walked in and told us we won best tasting water at the NC American Water Works Association conference. I could see the joy on every operator's face. We were all proud of our great work. 
8. Have you ever had to work in storm such as a hurricane or snowstorm? If so, what was that like? 
I love my job and I enjoy being at work, it doesn't matter the condition of the weather. I had to stay at the plant once during a snowstorm. It was not any different than any other day because someone must be here because customers must have water. I must be here no matter what. 
9. What would you want people to know about your job? 
I want people to know that I love being an operator at the EMJ water treatment plant.  
10. How did you get into this field? 
I relocated from Atlanta, GA in the year 2010. A friend informed me about an operator position available at the EMJ water treatment plant. I was blessed enough to obtain the position. 
11. How long have you been working here? 
I have been an operator for almost 12 years. 
12. What kind of training or schooling was needed for this job? 
NC Waterworks Operators Association offers classes and exams to obtain certifications to run different types of water treatment plants.  
13. Would you recommend this position to students looking for a career?  
I would recommend this position to students looking for a career. 
If this looks like a career you are interested, you can view available jobs here: "Treatment Plant Operator" 
Past Water Column Articles