---
Conventional Bike Lanes
Sharrows
Climbing Bike Lanes
Buffered Bike Lanes
Two-Stage Turn Boxes
Green Bike Lanes
Separated Bike Lanes
Traffic Garden
Sidepaths
Want to Ride a Greenway Instead?
Cycle Tracks
Bike Lane Upgrades
---
The City of Raleigh's bicycle network includes many types of bike lanes for people who ride on roads and streets. Learn more about the different lane types in Raleigh by viewing sections below.
Conventional Bike Lanes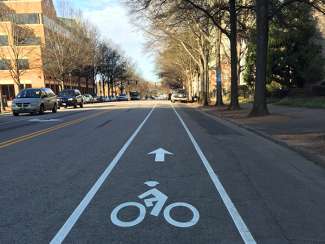 Conventional bike lanes dedicate exclusive space in the street for bicyclists. They include a solid white stripe between the general travel lane and the bike lane and are marked by a bicyclist symbol and arrow indicating the direction of travel. Conventional bike lanes are typically dashed near intersections to help bicyclists avoid collisions with right-turning motor vehicles. Drivers should look for bicyclists, especially at intersections and driveways, and then merge into the bike lane to turn right.
Sharrows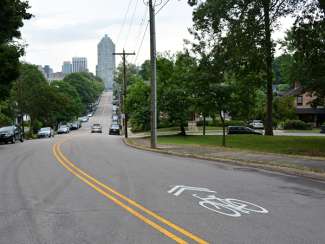 Shared lane markings, also known as sharrows, are markings in the street that look like a bicycle and two chevrons. Sharrows help bicyclists position themselves to be visible and to avoid parked cars while riding in the street. Sharrows also help to remind motorists to look for bicyclists. Even when sharrows aren't present, bicyclists are legally allowed to ride in the travel lane.
Climbing Bike Lanes
Climbing bike lanes are bike lanes in the uphill direction paired with sharrows in the downhill direction. Bike lanes in the uphill direction provide space for bicyclists to ride without slowing motor vehicle traffic, while sharrows in the downhill direction remind motorists to share the lane with bicyclists.
Buffered Bike Lanes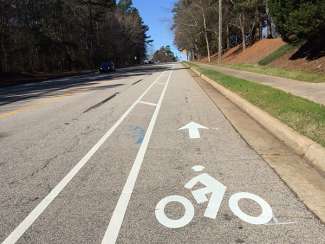 Buffered bike lanes are bike lanes that have a painted buffer between the bike lane and the general travel lane. In some cases, the painted buffer might appear between the bike lane and on-street parking to help bicyclists avoid opening car doors. Drivers should always look for bicyclists before opening car doors.
Two-Stage Turn Boxes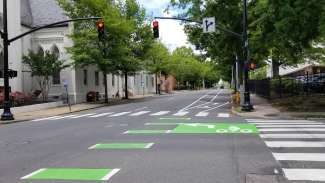 Two-stage turn boxes provide space for bicyclists to make left turns at intersections.
To use a two-stage turn box, move into the bike box and face your new direction of travel, then proceed across the intersection when the light turns green.
Green Bike Lanes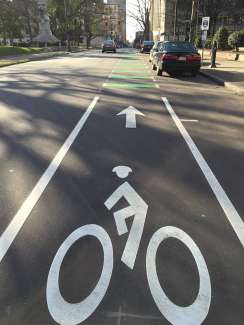 Green bike lanes function in the same way as conventional bike lanes. The green paint is intended to increase motorist awareness of bike lanes and bicyclists riding in them. Dashed green bike lanes indicate potential conflict zones between motor vehicle and bicycle traffic, and both motorists and bicyclists should approach these locations with caution. Where green bike lanes are dashed at intersections, drivers should merge into the bike lane to turn right after making sure the bike lane is clear.
More info on Green Bike Lanes and Bike Boxes
Separated Bike Lanes
These are bike lanes that are separated from general travel lanes with some kind of vertical element. There are myriad separation types, including flexible posts, curb stops, concrete curbs, planters, and even on-street parking. Separated bike lanes may be designed to accommodate one-way or two-way travel.
Traffic Garden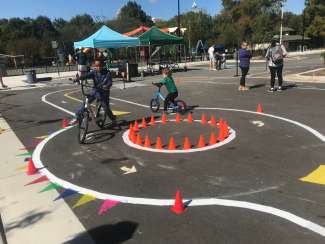 A Traffic Garden is a play-based learning environment with small-scale streets for educational programs, bike-skill development, and active play for all ages and abilities. Traffic Gardens provide a safe place away from moving vehicles to learn traffic rules and develop navigational skills.
The City of Raleigh provides temporary Traffic Gardens at kid-friendly events throughout the city. Read detailed plans for expanding Traffic Garden programming or contact Bee Persson to learn how you can host a Traffic Garden at your next event.
Sidepaths
Sidepaths are paved trails that are located along the street. Sidepaths are wider than sidewalks so that bicyclists and pedestrians can travel side by side. Both bicyclists and drivers should look out for one another at driveways and intersections.
Want to Ride a Greenway Instead?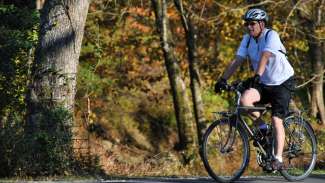 Explore more than 100 miles of paved greenways throughout Raleigh.
Cycle Tracks
A cycle track is a bike lane separated from moving cars, parked cars, and sidewalks by a physical barrier.  Cycle tracks provide a dedicated space for bicyclists and minimize potential conflicts between people who walk, bike, and drive.
The City of Raleigh is planning several two-way cycle track projects that will allow cyclists to bike in either direction on one side of the road while allowing for vehicular parking and movement on the other.
Bike Lane Upgrades
To improve safety for all users, the City of Raleigh installed flexible delineators to bike lanes throughout the city. The addition of a vertical element on these streets will help to slow vehicular traffic and improve safety for all users. The delineators were completed summer 2020.
Learn more about bike lane upgrades.