The North Carolina Department of Insurance recently honored a Raleigh Fire Department team for its help related to a medical emergency and its aftermath. After saving a Raleigh man's life, the team returned to his home to finish mowing the lawn he was working on when he had a cardiac arrest. 
Jim Sink was mowing the lawn in his backyard in April 2020 when he collapsed suddenly. His neighbor saw Sink fall over and ran to his house to alert the family, said Assistant Chief Lowell Smith from RFD.  The family, with the neighbor's help, performed CPR until first responders, including Wake County EMS, arrived and took over. After successfully resuscitating Sink, they stabilized him and took him to the hospital.
After Sink was transported to the ER, the RFD crew finished cutting his grass and put his equipment up.   
"I was so appreciative about that," said Sink's wife, Marla Sink. "It was so kind of the firefighters to attend to what many might have thought was a minor detail.  But to me, it was a huge gesture of kindness that relieved some of the concerns I had in that situation." 
Award from Department of Insurance
The Commissioner of Insurance and State Fire Marshal Mike Causey was made aware of the story. Recently on the front lawn of the Albemarle Building, the RFD team was presented with an award for its service.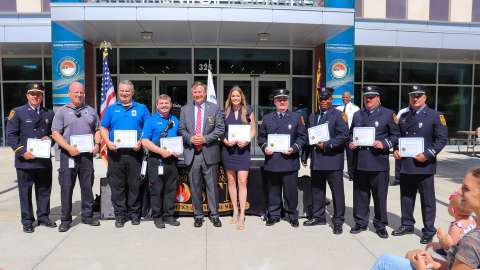 Recognized RFD members: 
Engine 23 C-shift
Lieutenant David Stanton 
Senior FF Jeff Wardrick 
First-Class FF Marshall Wrenn
Ladder 6 C-shift
Captain Chris Townsend
Lieutenant Randall Schmidt
Lieutenant Anthony Capps
Senior FF Johnny Dotson
This article is part of the "Fire News" quarterly newsletter.  Subscribe to receive future editions and view the Summer 2021 edition. Main photo by Mike Legeros.