Days after a fire destroyed Dee Jenkins southeast Raleigh home, she could barely get the words out before stopping to take a deep breath.
"I'm so grateful for the first responders," she said.
The longtime Raleigh resident is still shaken from what happened and by the thought of what could have happened.
 
When Ladder 12 responded to the call on Brownairs Lane, flames were shooting out of the front of house. As crews fought to control the fire, Raleigh Firefighter Brett Taylor went into the house to conduct a full search. It was in an upstairs bedroom where he spotted something unusual. It looked like a tail.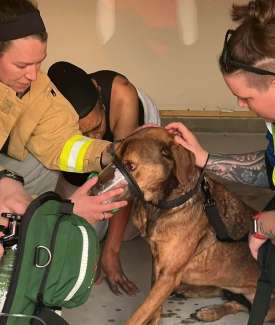 Taylor looked under the bed and spotted a dog that appeared lifeless. He prodded the dog, then grabbed her and quickly got her outside to safety. Wake EMS paramedics Brittnay Baker and Courtney Stansbury, along with District Chief Benji Currie were waiting. The team grabbed a pet oxygen mask that is standard equipment on every ladder truck and went to work. Minutes later, they got the sign they were looking for… a wagging tail.
"We didn't know if she'd make it. It was very emotional," said Currie.
 
"She was clearly in distress," said Taylor. "But after a few minutes with the oxygen mask, she responded. We were all relieved."
 
Taylor has seen a lot during his 19 years with the Raleigh Fire Department, but reviving a pet was a first for him.
 
"I'm just glad something good could come out of something bad."
 
The dog's name is Sassy Cinnamon. When Jenkins adopted her, the pup only weighed a little over one pound. Back then, folks were skeptical about her chances of survival. Now, two years later, Sassy is proving once again how tough she really is. After a few nights in the veterinary hospital, she's back with Jenkins and the veterinarian says she'll be just fine.
 
The cause of the fire is still being investigated. As for Jenkins, she's not sure what's next, but she does know this: She's thankful for the firefighters and the paramedics and she's thankful to have Sassy back by her side.
 
"Sassy and I are survivors," said Jenkins.