If you are looking for a rewarding career where you can be part of something meaningful and serve others, the Raleigh Fire Department wants to hear from you! The department has several routes for those interested in joining its ranks.
Traditional (Long) Academy
Firefighter recruits need a high school diploma or an equivalent and a valid driver's license to apply to the Academy (there are also other eligibility criteria; please see Candidate Selection Procedure Manual). Candidates must fill out an application in NeoGov and pass written, physical agility and psychological tests and pass a criminal background check. The Academy, which normally begins in the spring, lasts 32 weeks. The Raleigh Fire Department trains the recruits to get their Firefighter 1 and 2 certifications, along with their EMT and Hazmat 1 certifications.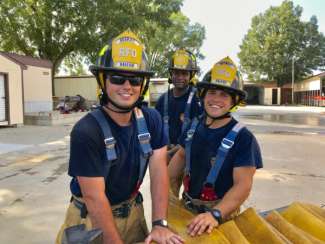 Fast Track
In this academy the recruits must have a high school diploma or an equivalent, along with a driver's license and Firefighter 1 and 2, EMT and Hazmat 1 certifications. This academy runs for 10 weeks. Candidates must follow the same process to apply and successfully complete the same written, physical agility and psychological tests (along with passing a background test) as those participating in the traditional academy.
"We place recruits in these academies to ensure that they are provided the fundamental knowledge and skills required to perform the duties of a firefighter," says Assistant Fire Chief Ian Toms.
Lateral Transfer Program
The Raleigh Fire Department also offers a lateral transfer program for full-time firefighters with more than two years of experience who serve in other fire departments. The program was launched in July and the first group of lateral transfer firefighters recently began their orientation.
The lateral transfer firefighters need to complete a four-week orientation to verify their EMT, firefighting and hazardous materials skills (they need to have the certifications listed above). The application process is similar in fashion to the above except that no physical agility test takes place.  Upon entry to the four-week orientation period all members will perform the standard RFD annual physical agility test.
"Staffing has always been a high priority for the Raleigh Fire Department and this new program provides us an additional way to efficiently fill existing and anticipated vacancies," says Fire Chief Herbert Griffin.