---
What did TC-21-20 do?
Frequently Asked Questions
---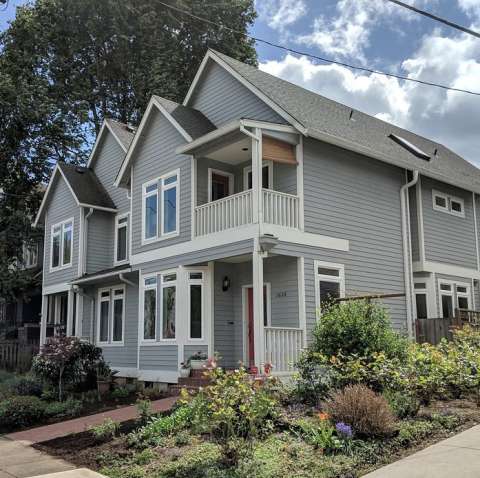 The City Council passed text change TC-5-20 in the summer of 2021. This ordinance amended the City's zoning code to permit more types of housing in residential neighborhoods, particularly duplexes and townhouses. Shortly thereafter, the Council directed staff to implement other creative strategies to increase the supply of housing with a particular focus near planned transit investments. A recent text change, TC-20-21, was the next step in a more flexible zoning code designed to allow for smaller homes on smaller lots and denser development near high-frequency transit. TC-20-21 built on recently adopted policies to promote alternative and "missing middle" housing types so that Raleigh can better accommodate existing and future residents. TC-20-21 was adopted on May 10, 2022, and takes effect on August 8, 2022.
What did TC-21-20 do?
Text Changes (TC) are amendments to Raleigh's Unified Development Ordinance (UDO). The UDO contains all of the development and zoning rules for the city. TC-20-21:
Reduced the lot size requirements, and increased the allowed building size, for the Tiny House building type. A Tiny House could have a maximum 800-square-foot building footprint and a 1,200-square-foot floor area.
Permitted Tiny Houses to be used for either single-unit or two-unit (duplex) living.
Permitted flag lots in residential districts for the construction of Tiny Houses.
Permitted two-unit Townhouses in the R-4 zoning district.
Synchronized lot dimensional standards across most residential building types.
Allowed denser residential development within proximity of planned high-frequency transit with some additional bonuses for affordable units.
Allowed Accessory Dwelling units on townhouse lots and two Accessory Dwelling units on a lot when proximate to planned high-frequency transit.
Reorganized the code to include Accessory Dwelling Unit regulations and Cottage Court regulations in both the Residential and Mixed-Use chapters of the UDO.
Frequently Asked Questions
Below are answers to some commonly asked questions about middle housing.
What is a flag lot?
A flag lot is an irregularly shaped property, often with a narrow portion of land fronting on the street, that provides access to a larger portion of the lot. Flag lots are common in many cities and counties throughout the country and allow for the efficient use of oversized lots. Under this text change, a flag lot can be smaller than a traditional residential lot and therefore only Tiny Houses are permitted on these lots
What areas are designated as proximate to high-frequency transit?
The City has adopted a map to designate specific areas within proximity of high-frequency transit. This map took into consideration existing and planned transit investments and has been incorporated into the City's Comprehensive Plan. To verify whether a property is located within a Frequent Transit Area, search for the property in iMAPs, select the Raleigh Planning and Development layer and then select the Urban Form sublayer. Frequent Transit Areas are shown in translucent white with a black border. (Note: To improve visibility, it may be helpful to deselect other layers.)
How does this text change relate to the Transit Overlay District and Bus Rapid Transit?
The City has adopted or is in the process of adopting, changes to the UDO and other planning documents to prepare for Bus Rapid Transit (BRT). One of those changes was the creation of a Transit Overlay District, or -TOD, which will allow for denser residential development and require pedestrian-oriented design along future bus rapid transit corridors. While the -TOD and TC-20-21 have some elements in common, there are a few key differences. First, the -TOD will be mapped through a traditional rezoning process and will only apply to properties in the immediate vicinity of BRT routes. It will also permit higher-density residential development and prohibit auto-oriented uses. In contrast, TC-20-21 applies to a larger area of the City but permitted only a modest increase in density as compared to the underlying zoning district.
Why allow more housing near transit?
Access to reliable transportation impacts people's lives and can be a determining factor when deciding where to work or buy a home. High-frequency transit will provide the residents of Raleigh with increased mobility and opportunity. By allowing more housing along transit corridors, the City can ensure more people are able to access the goods, services, amenities, and employment they rely on.
How will this impact neighborhoods with a Neighborhood Conservation Overlay District (NCOD)? 
Most NCODs regulate the subdivision of land through minimum and maximum lot sizes, lot widths and depths; and the form and scale of buildings through restrictions on height and setbacks. These regulations remain unchanged under this text change and will apply to any new building types permitted under TC-20-21. However, as is the case with the current code, anything not regulated by an overlay district is regulated by the underlying zoning.