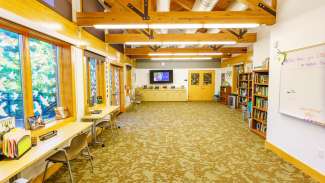 The Annie Louise Wilkerson Education Center is now open to the public with animals, activities, and a new nature library. Browse hundreds of nature books for kids and adults, on topics ranging from field guides to nature art, to children's books about nature. Check out a book to read at home!
The nature library will open for the following hours through the end of December:
Wednesday and Thursday, 3–5 p.m.
Sunday, 1–5 p.m.
This nature library was made possible by a generous donation from the King family.