Come try a few of our upcoming classes for free! Classes are free, but please pre-register online.
Zumba® Classes
Zumba® is for everybody and every body! We take the "work" out of workout, by mixing low-intensity and high-intensity moves for an interval-style, calorie-burning dance fitness party.
Date: Monday, Oct. 30
Time: 7-8 p.m.
Age: 16+ yrs
Fee: Free
Register on RecLink
Zumba® Toning is for those who want to party, but put extra emphasis on toning and sculpting to define those muscles!
Date: Saturday, Nov. 4
Time: 9:30-10:30 a.m.
Age: 16+ yrs
Fee: Free
Register on RecLink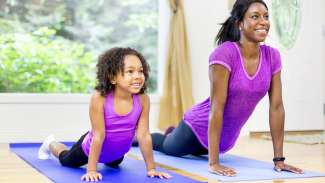 Family Yoga Class
Bring the whole family for a fun, creative, and blissful yoga class! This FREE class will introduce classic yoga, meditation, breath work, and stress management in a kid-friendly style. Families will participate in music, games, and imaginative stories. We have some mats on hand to borrow, but kindly bring your own if you can so that we can be sure we have enough for everybody. All ages are welcome, but best suited for 2-12 years with caregivers!
Dates: Sundays, Nov. 5 and Dec. 3
Time: 2:30-3:30 pm
Age: All
Fee: Free
Register on RecLink