Join us for fun haunts with a series of programs at the historic sites and from home! Browse the upcoming programs below.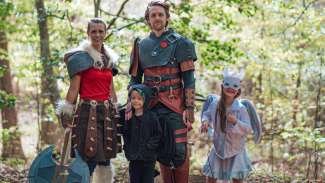 Haunts from Home and Trick Fur Treat Costume Contests
All October
Participate in our virtual Haunts from Home and Trick Fur Treat costume contests all month long. Costumes will be voted on by the public and winners selected by category. Submissions will be accepted through Nov. 1 at 5 p.m. with winners announced on Nov. 4 and prizes available for pick-up at Mordecai Historic Park.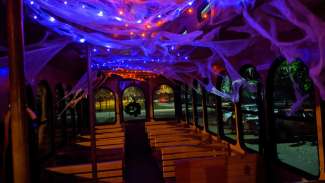 Haunted Trolley
Friday, Oct. 22 and Saturday, Oct. 23 at 6:45, 7:45, and 8:45 p.m.
Friday, Oct. 29 and Saturday, Oct. 30 at 6:45, 7:45, and 8:45 p.m.
Join your ghost host on the Haunted Trolley, if you dare, for a special late-night tour of downtown Raleigh's most haunted places. Jump aboard and keep your eyes open for ghostly visitors of years past. They've been just dying to meet you!
The Haunted Trolley is a fun, family-friendly program, but some stories and experiences may be frightening for younger participants. We would generally discourage for those under the age of 6 years old, but that discretion is left up to parents/guardians.
The trolley departs from Mordecai Historic Park. Register online using RecLink or by calling 919-996-4364. Tickets are nonrefundable.
Haunted Festival: Haunts from Home Craft Kits and Pumpkin Patch
Saturday, October 30, 12 to 4 p.m.
Get fall crafts, lawn games, pumpkins, and more at Mordecai Historic Park! Pick up fall crafts and get prizes on Saturday, October 30 from 12-4 p.m. at the Mordecai Visitor Center! Haunts from Home craft kits are first come, first served and are limited in quantity. A pop-up dog park will be available on-site through Nov. 3. The pop-up dog park will have treats and freebies available for dogs on Saturday, Oct. 30 made possible by Woof Gang Bakery.
The Ghost Guild Virtual Haunted Festival Experience
Saturday, October 30, 7 p.m.
The Ghost Guild will bring you history, lore, and investigation data from Mordecai Historic Park at this year's festival, and will also be exploring beyond its boundaries and including other historic properties in the City of Raleigh: the Borden Building and Tucker House.
Decide if you want to keep the lights on— but maybe get a flashlight just in case— and watch from the safety of your home on the eve of Halloween.
Once you've toured the sights from your comfy seat, at the end of the event, members of The Ghost Guild will be available to answer questions. Those participating could win an assortment of prizes, too! Visit the Ghost Guild's Facebook page for more information.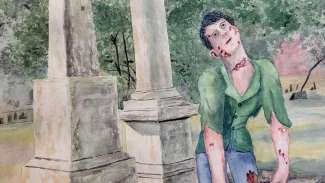 Zombies, Ghouls and Graveyards Painting en Plein Air 
Sunday, Oct. 24, 2 to 4 p.m. 
Friday, Oct. 29, 4 to 6 p.m. 
Love painting? Love zombies, ghouls, and graveyards? Join teaching artist Rick Bennett for a one-of-a-kind art class that leans into Halloween kitsch while teaching painting techniques that you can apply to your practice any time in the year. Working toward the goal of painting a graveyard landscape filled with zombies and ghouls, the first class meeting will cover building your palette, making choices about composition, and preparing to paint outdoors. In the second class, we'll meet at a graveyard with real zombies and ghouls together for an afternoon of plein air painting. Participants may use any medium they feel comfortable with and should plan to bring their own supplies; demonstrations will be completed in watercolor.
Location: Mordecai Historic Park Visitor's Center on Oct 24 and address to be shared with registrants for Oct. 29 (less than 10-minute drive from Mordecai)
Cost: $60 Raleigh residents/$75 non-residents (students bring their own supplies)
Ages: 16 years and older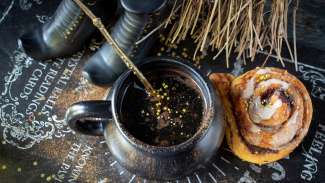 Saturday, Nov. 6, 2 to 7 p.m.
The Wizard's Market appears for only one day in a cloaked location each year. Young witches and wizards who enter the market will encounter mysterious characters and fantastic beasts, create magical crafts, and practice spells with professors from a certain famous wizarding academy. Be sure and wear your colors to show your House pride while you shop for enchanting handmade items and treats from our vendors, enjoy family-friendly stage performances, and experience magic and mischief under the waxing crescent Autumn moon. This event is in partnership with Paper and Stars Studio.
Tickets are free and registration is not required to attend. However, registration helps us to present a well-planned event and allows you to receive updates and important information concerning any changes to the event. Register online.