Continuing to improve firefighter safety is crucial to the success of the Raleigh Fire Department, and its Research & Development team plays a key role in this work. The team evaluates, reviews, tests, and makes recommendations on new equipment – and works closely with firefighters to ensure various needs are met.
The R&D team follows a rigorous process to improve the equipment firefighters use in incident response. The 15-member team receives suggestions from their colleagues and comes up with its own ideas, too. 
Once the team has a viable suggestion, it begins to study how the idea or product can benefit the Raleigh Fire Department. Team members contact manufacturers and other fire departments to learn more. After that they lead testing to see how well the product or solution may work.
"Field testing is performed by our firefighters and the R&D team provides a structured assessment of the equipment," said Division Chief Scott White. "The team then follows up with surveys on each product tested. Our goal is to make decisions objectively and based on facts, not just how new or exciting something seems to be."
Thorough Process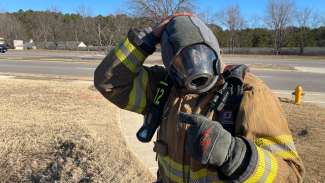 The team recently completed an extensive research report on particulate-blocking hoods as part of the department's cancer prevention program. 
The R&D team, along with the Logistics Division, researched new available technology for personal protective hoods that protect against cancer-causing particulate hazards present at fires. Through initial review, analysis, and comparisons, three hoods were selected for general staff evaluation.
"Our firefighters were given the opportunity to use the hoods, wash the hoods, train with the hoods, evaluate the hoods, and provide feedback on each of the three options," explained Lieutenant Kamilah Webb. "The R&D team then collected user feedback and tallied the results. The hood that received the most votes was selected for purchase. All of our firefighters recently received the new hood, and we plan to purchase second hoods later this year."
Various Ranks and Divisions Represented in Team
Team members, who represent various ranks and divisions at RFD, have volunteered to serve two years.   
"Participation can be the sharing of ideas, assisting the research and testing processes, coordinating with outside vendors or subject matter experts, creating proposals, and working with department leadership to implement new processes or enhance our equipment," White said.
Lieutenant Webb emphasized the entire department's involvement in the work. "Every voice matters, every idea matters, everybody matters," she said. "Many good ideas are shared around our kitchen tables or at the tailboard of our fire trucks. At our stations, you'll hear discussions on how we as a department can improve our service delivery and enhance the tools we use to better serve Raleigh. These are the ideas R&D wants to hear about."
Serving Internal Customers
It's no surprise, then, that Webb enjoys the work for two key reasons. "I enjoy being a part of a process that gives voice to my co-workers," she said. "I signed up to be a firefighter to serve our external customers, but along the way I realized that I also want to be a voice for our internal customers." 
Secondly, she said, she's thankful to be in a group of other engaged, passionate, and motivated firefighters. "Hearing the ideas and seeing the passion each R&D team member brings inspires me to continue to be engaged and advocate for the progressiveness of our department."
Lieutenant Christopher Campbell agreed. "It's rewarding to be a part of the R&D team knowing we can play a role in having a positive impact within the department, no matter how small it may be," he says. 
The team also understands that it can't make everyone happy all the time, White said. "But, by hearing from those that will be using the products the most, we feel that we can pinpoint the product that is agreed upon by the majority."