Raleigh's first downtown open streets event, Stroll in the Streets, is Sunday, Oct. 17. During the event, the 1.3-mile stretch along Lenoir Street and South Saunders Street between Chavis and Dix Parks will be closed to traffic to allow for walking, biking, art and play stations, food trucks, and more! Join us at this event to help us imagine the possibilities of this strollway.
Event Details
Sunday, October 17,  noon to 5 p.m.
Route: The multi-modal (walking, biking, scooters, etc.) route between John Chavis Memorial Park and Dorothea Dix Park runs from Lenoir Street to West Street to South Street to South Saunders Street.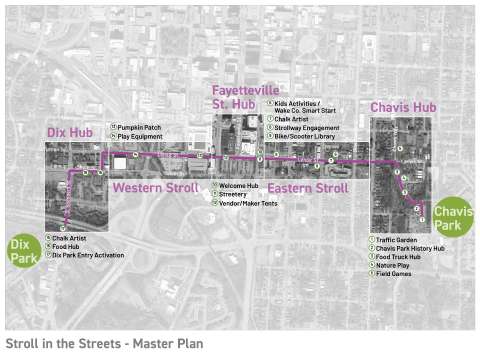 Chavis-to-Dix is a Planned Strollway: Help Us Imagine the Possibilities
The Chavis-Dix Strollway is being planned and the goal of the one-day event is to imagine the possibilities. People who come to Stroll in the Streets are invited to experience the temporary strollway and provide feedback. A survey will ask people 'What would make the strollway accessible, meaningful, and inviting to you?' Look for the information tent at the intersection of Wilmington Street and Lenoir Street to learn more and take our survey.
Free Event Parking
Free parking for the event will be provided at Raleigh municipal parking decks. To help you find your way, please check out our parking deck map. Below are addresses for the five parking decks offering free event parking on Oct. 17:
City Center Parking Deck- 429 S Wilmington St.
Moore Square Parking Deck- 233 S Wilmington St.
Wilmington Street Deck - 117 S. Wilmington St.
Blount Street Deck - 314 Blount St. 
Municipal Complex - 201 West Morgan St.
Follow signs to the Stroll in the Streets event.
Road Closures for the Event Include:
Lenoir Street between S. Saunders and Chavis Way
West Street between Lenoir and South Street
South Street between West Street and S. Saunders Street
S. Saunders Street between Lenoir Street
A Call for Business Participation
The Downtown Raleigh Alliance is inviting businesses to partner with the City and be a part of the Oct. 17 event. Any businesses interested in participating should fill out the DRA Stroll in the Streets Activity Partner form.
Background, History, and Future Plans
A  great deal of research, planning and community discussion have gone into envisioning an East Raleigh Heritage Walk to increase awareness of the area's history and ongoing contribution to the evolution of downtown Raleigh.  Our partners, Celen Passalar and Kofi Boone at the North Carolina State University, College of Design, led efforts to publish South Park Heritage Walk Project: Educate, Preserve, Memorialize in 2014.
At the June 16, 2020 City Council meeting, staff presented, and Council approved a recommendation to reallocate funding to move forward with short-term improvements to connect John Chavis Memorial Park and Dorothea Dix Park. With an understanding of existing and planned transportation improvements in the area, staff identified Lenoir Street as the primary preferred bike and pedestrian connection, commonly referred to as the Chavis to Dix Strollway.  Longer term, staff noted that improvements to Western Boulevard and Martin Luther King Boulevard as part of the Bus Rapid Transit project will provide another, more direct, connection between Dix Park and Chavis Park
Over the past year, staff from Parks, Recreation and Cultural Resources; Transportation; and the Urban Design Center have been working together on a variety of initiatives.  Within the past few months, the working group has expanded to include representatives from Oaks and Spokes, the Downtown Raleigh Alliance, Shaw University and Citrix Cycle.