"Whatever our members or fire stations need, from ladder trucks to paper towels, we got it. The Logistics Division is the Amazon of the Raleigh Fire Department," describes Assistant Fire Chief James Poole the group that provides supplies and equipment for fire suppression and emergency response conducted by RFD.
The Division's main warehouse off New Bern Avenue does look like a mini-Amazon, with its floor-to-ceiling shelves that require a lift to access the highest ones. Next to the warehouse sits the large-enough-for firetrucks garage and the main side building houses a variety of bulky items, from treadmills and other exercise equipment to furniture and an antique firetruck waiting for repairs.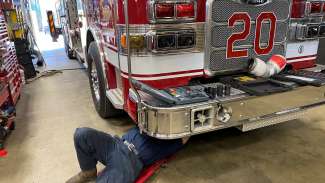 The Raleigh Fire Department has 29 engine companies, nine ladder truck companies and one heavy rescue team. In total, the department has about 175 pieces of "rolling stock" or vehicles, including pumpers, mini-pumpers, pickups, tractor-trailers, boats and SUVs, along with the larger apparatus.
Logistics purchases, equips and maintains the vehicles. Its shop has five mechanics and a supervisor, and the group also test all vehicles annually. 
Another key task is maintaining and supplying all RFD safety equipment including personnel protective equipment such as helmets, coats, pants, boots, and gloves. Firefighters turnout gear is custom-fitted, and each member has two sets. A set is replaced every five years.
Only Missing Item: Groceries  
Logistics also takes care of the ordering, distribution and tracking of everything the City's 29 fire stations need, from plumbing and lighting fixtures to AC units and furniture (and the maintenance of these facilities). A vendor keeps tabs of household items, such as cleaning supplies and paper products, and replenishes them when needed.
"In general, food is the only thing our members have to acquire themselves for the stations," summarizes Poole, a 42-year veteran of RFD.  
His six-member group is also involved in the planning and construction of new fire stations and other department structures; RFD has opened two new stations this year.
Much of the Division's work takes place behind the scenes – but its impact is highly visible.
"Their work enables our Operations Division to effectively respond and mitigate hazards and emergencies," says Fire Chief Herbert Griffin. "Without Logistics, we simply couldn't operate."
This article is part of the "Fire News" quarterly newsletter. Subscribe to receive future editions and view the Summer 2021 edition.