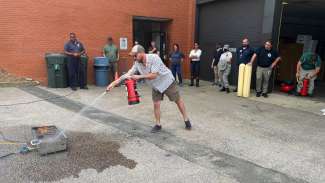 Fifteen volunteers spent a recent weekend learning how to use a fire extinguisher, apply a tourniquet to control bleeding, splint an arm or leg and other essential emergency response skills.  
The hands-on training was part of the City's Community Emergency Response Team (CERT) program.
CERT teaches people about disaster preparedness for hazards that may impact their area and trains them in basic disaster response skills, such as fire safety, light search and rescue, team organization, and disaster medical operations. 
In April, The Raleigh Fire Department and the NC Department of Public Safety announced they were bringing back the CERT program. 
The group who trained at the Fire Department's Keeter Center on June 5 is the first class of the re-started program. Of the 15 volunteers who attended, 10 will be joining the Raleigh CERT group, said Fire Prevention Coordinator Lemuel Hubbard. 
They will have their first meeting in July and volunteer with fire education events.