You could say Nat Hines is the definition of a gym rat.
"The only way to keep my body in shape is to keep exercising as long as I can."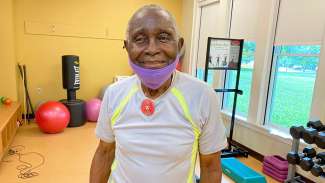 He's been a "regular" at the Five Points Center for Active Adults for years. When the facility had to temporarily close due to the pandemic, Mr. Hines continued his workouts at his apartment complex. But, it just wasn't the same. As you can imagine, he was more than excited about his first day back to the gym on June 9.
"I missed it, I really missed it."
Why is the center so important to him? Well, Mr. Hines is 100 years old and he contends the regular workouts have helped him reach this life milestone.
"Because you know if I don't exercise, you start having little aches and pains here and there. I said I gotta get back to exercising because this is not doing me any good, not exercising. I gotta get where I can exercise."
Plus, he points out there's the social aspect of coming to a place like this. He's become friends with the staff and with fellow exercise enthusiasts.
"It feels good now… feels like home, feels like home."
Whether it's logging miles on the treadmill or lifting weights, Mr. Hines jokingly told us nothing will stop him from his weekly workouts at the center.
"You may have to put some oil on those bones a bit to keep 'em going."
Find more information about the Five Points Center for Active Adults.