From an early age, riding my bike has given me a sense of creative freedom. When I ride my bike, I am able to truly see my community; a unique and special community that is made up of great people and a rich history. It's like one of my paintbrushes; an essential tool that helps me to beautifully recreate the people and the places around me.

JP Jermaine Powell, Bike Mural Artist
Commute Smart Raleigh, Raleigh Union Station, and Raleigh Arts have teamed up to commission a local artist to paint a mural at the Raleigh Union Station bike racks in celebration of May being Bike Month. The mural reflects the multi-modal connectivity of bike and rail and is meant to inspire the joy of cycling.
Bike Month is a celebration established in 1956 and promoted by the League of American Bicyclists, which has been part of communities from coast to coast ever since. The City of Raleigh has been celebrating Bike Month locally for over 10 years.
A diverse panel of stakeholders in Raleigh Union Station selected J.P. Jermaine Powell to create the mural after receiving several draft sketches from a talented pool of local artists to choose from.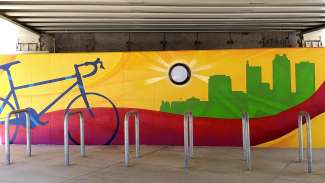 Try a Citrix Cycle Bikeshare E-bike & Visit the Mural
Please join the Commute Smart Raleigh team and mural artist JP Jermaine Powell on Sunday, May 23, 1 - 3 pm to try a Citrix Cycle Bikeshare E-bike for free and learn more about the mural at Raleigh Union Station. City staff will share how biking is safe and convenient while riding a bike share e-bike. JP Jermaine Powell will showcase his Bike Month mural and discuss the project with participants.
---
About Commute Smart Raleigh
Commute Smart Raleigh offers easy solutions to alleviate traffic congestion and employee stress, by moving more people in fewer vehicles. Commute Smart Consultants provide advice and assistance on how to increase the use of transportation options such as walking, biking, transit, carpooling, vanpooling, teleworking, creative work schedules, and parking cash-out.
Learn more about Commute Smart Raleigh 
About Raleigh Union Station
The City of Raleigh and NCDOT have constructed a new train station in the city's downtown Warehouse District to accommodate current and future demand for intercity passenger rail, commuter rail, buses, taxis, bicycles and other forms of transportation - Raleigh Union Station (RUS). There are now four daily round-trip trains available from Raleigh to Charlotte.
Learn more about Raleigh Union Station
About Raleigh Arts
The Office of Raleigh Arts supports and promotes the arts in Raleigh by administering the programs of the City of Raleigh Arts Commission and the City's Public Art and Design Board and supporting the Pullen and Sertoma arts centers. The Office of Raleigh Arts is part of the City of Raleigh Parks, Recreation and Cultural Resources Department.