They say when tragedy strikes, you should always look for the helpers. On New Year's Eve day, the helpers turned out to be members of the Raleigh Fire Department.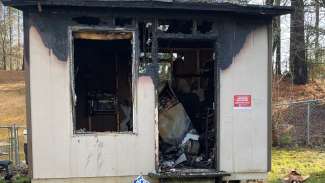 Responding to a structure fire, they found a backyard shed consumed by flames. It turns out that shed was Ms. Betty Campbell's temporary home. She lost everything.
The last year had already been long and painful for Ms. Campbell. She'd lost her son to COVID-19, and she'd also lost her apartment.  
Once the firefighters of Engine 11, Shift B, put out the flames, they got to work finding out more about Ms. Campbell. It turns out the 76-year-old Raleigh resident, who is blind in one eye and has mobility issues, works two jobs to make ends meet.
Firefighters Rally
"I left that call feeling sad," said Captain Dena Ali. "We put the fire out, but we did nothing to make her life better."  
So, Ali started reaching out to fellow firefighters. And that's when our community shone through.
Firefighter Lt. Marcus Horne works with Victor Company, a non-profit comprised of minority Raleigh firefighters that engages in community outreach projects. The group partnered with Ameriglide to provide a stair lift free of charge so Ms. Campbell can now maneuver the stairs in her sister's home.
Firefighters also worked with Heister Chevrolet to make her a new set of car keys at no cost. Hers had been damaged in the fire and she was worried she wouldn't be able to get to work. 
And to top it off, they collected $4,000 in donations with money coming from firefighters all over the country.
"I'll be honest, helping Miss Betty helped me just as much," said Ali. "Seeing the community come together and knowing she was going to be safe made it easier to sleep."  
"I would dare say, Mrs. Campbell, with her infectious positive spirit, helped Capt. Ali, Victor Company and myself more than we helped her," said Lt. Marcus Horne. "Throughout this whole ordeal, facing all her hardships, her resilience and gratitude was truly remarkable. Her situation reminds us all that we're in this together. We have to watch, take care of and love one another."
So, thank you to local businesses and firefighters from Raleigh and beyond for showing us what community means. 
Note: An earlier version of this article had Ms. Campbell's age as 77. She is 76.