There's no better way to soak up the beautiful autumn weather than by enjoying a fun picnic in Raleigh Parks!
Need some inspiration for your outdoor meal? We've pulled together some picnic ideas to spark your fun fall adventures.
Happy picnicking! Share your #RaleighParks picnic photos with us on social media at @RaleighParks!
Horseshoe Farm Nature Preserve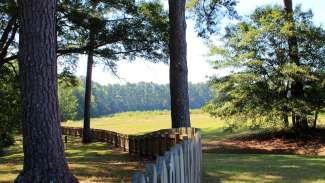 Carved out by the meandering of the Neuse River, Horseshoe Farm Nature Preserve sits on a U-shaped piece of land with tons of natural and cultural resources.
Suggested Picnic: Date Night
Enjoy the beauty of nature with your significant other while reflecting on some of your favorite memories and simply relaxing in the sunshine and fresh air.
What you'll need: Be sure to bring a comfy picnic blanket and pillows or chairs. Bring finger foods to make your own charcuterie board! Use a heart-shaped cookie cutter to cut your cheese or meats for a special touch. Include things like nuts, olives, dips, bread, and chocolate.
See more details for visiting Horseshoe Farm Nature Preserve here.
Halifax Park
The park features a public art piece, titled Hoops Play Hoops. The artwork was created by Chris Fennell. He used locally salvaged materials to build large, interactive, site‐specific installations reflecting local history.
Suggested Picnic: Play Ball
This one's for the kids! Be sure to bring camping chairs, some type of sports item (a football, basketball, baseball, frisbee), bubbles, a hula hoop, or anything you need to guarantee a fun afternoon of play.
What you'll need: Make your own healthy "lunchables" by packing crackers, deli meat or pepperoni, cheese, and a sports drink or juice.
Dr. Martin Luther King, Jr. Memorial Gardens
This is the first public park in the United States solely devoted to Dr. King and the civil rights movement.
Suggested Picnic: A Moment of Reflection
Bring a comfy blanket and your favorite book or journal. Take time to enjoy the gardens at sunrise and reflect on Dr. King's legacy.
What You'll Need: Your favorite coffee or tea and a quick easy breakfast. 
See more details for visiting Dr. Martin Luther King, Jr. Memorial Gardens here.
Anderson Point Park
The park offers a variety of habitats for wildlife viewing and is home to the enchanting historic Anderson Family Homestead, walking trails and canoe sites. The stone terraced amphitheater has three grassy levels in a beautiful natural setting.
Suggested Picnic: Family Fall "Tailgate"
Create your own tailgate! Bring a football and play your own game of flag football. If you have them, bring cornhole boards or ladder golf.
What you'll need: Bring apple cider, BBQ (you can make your own or pick it up from your favorite local business), macaroni and cheese, and your favorite tailgate desserts!
Isabella Cannon Park
This park was named for Isabella Cannon, Raleigh's first female mayor. One of the park's unique features is a climbing boulder.
Suggested Picnic: For the Adventurous Type
Start your visit by taking on the climbing boulder! Choose your side: one is easily accessed by older kids while another offers an overhang for a slight challenge.
What You'll Need: A healthy charcuterie board. Get items like nuts, granola bars, dried fruits and crackers. Challenge: pick up three unique cheeses you've never heard of or tried before!