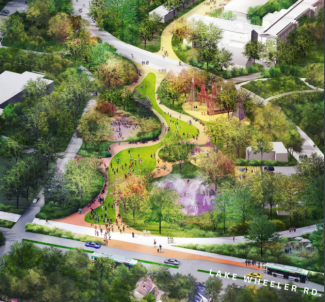 After years of planning, our city's extraordinary opportunity to create one of the most spectacular public spaces in the country begins with our first project, the Dix Park Plaza & Play. The Plaza & Play project takes the concepts and elements developed in the Dorothea Dix Park Master Plan to the next level through the design process. The key to the success of the project is continued engagement with the community.
In this second public meeting, hear from City of Raleigh Parks, Recreation and Cultural Resources, and lead project consultant Michael Van Valkenburgh Associates about how the design is taking shape, and share your feedback during a moderated live Q&A!
Public Meeting #2 – Virtual
Tuesday, January 19
6:30 - 8 p.m.
Registration and meeting details will be available soon on the Plaza & Play Online Engagement Portal