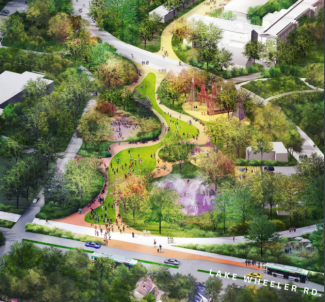 After years of planning, our city's extraordinary opportunity to create one of the most spectacular public spaces in the country begins with our first project, the Dix Park Plaza & Play! 
Approximately 12 acres in size on the southern edge of the park, the Plaza & Play will become the main entrance to Dix Park along Lake Wheeler Road, welcoming visitors travelling from around the City and across the State.
The Plaza & Play project takes the concepts and elements developed in the Dorothea Dix Park Master Plan to the next level through the design process.  Key to the success of the project is continued engagement with the community. Design is beginning now, and we want you to join us in shaping the future of the Dix Park Plaza & Play!
Public Meeting #1 – Virtual
Wednesday, October 7
6:30 - 8:00 pm
Registration and meeting details can be found on the Plaza & Play Online Engagement Portal