Join us for a month-long series of pop-ups held by Raleigh Arts to promote the draft of the Public Art Strategic Plan and gather feedback. We invite you to read the draft public art plan and share your feedback.
Check out the upcoming events below!
July 1-31
They Danced Among The Trees is inspired by memories of twirling in forests and watching dappled light dance through green canopies. Jane Cheek's art installation will be viewable along the path from Sertoma Arts Center to the Shelley Lake Greenway Trail during the month of July as part of a month long series of events sharing and promoting the draft Public Art Strategic Plan.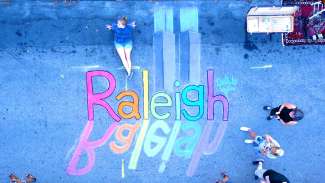 Saturday, July 16, 11 a.m. - 1 p.m.
Join us at John Chavis Memorial Park for an interactive chalk event with Chalk By Taylor. There will be pop-up chalkboards near the splash pads for kids to draw, color, and express themselves. Taylor will be in attendance to draw with everyone and talk about being an artist! Come out for a fun event and to learn more about our public art plan!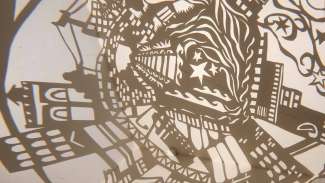 Saturday, July 23, 8:30 p.m.
Strange creatures! Unbelievable worlds! Shadow puppetry has the ability to suspend the disbelief in people of all ages, not to mention transcend the boundaries of interstellar space and time. Come play with space and sci-fi themed shadow puppets by local puppet artist Nyssa Collins during the outdoor screening of Dune on July 23 at the North Carolina Museum of Art.