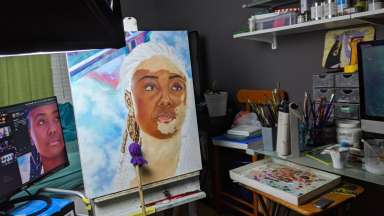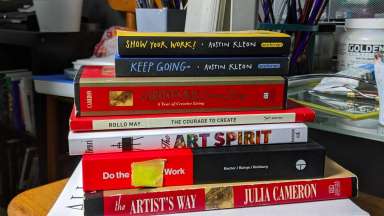 From Lakeshia T. Reid -
My creativity has sort of ebbed and flowed since the start of the stay-at-home order. I've been doing my best to stay engaged by painting through my discomfort. I've leaned heavily on social media to keep in touch with others and the conversations within that space have kept me encouraged and inspired. I stopped working on art for my upcoming shows and started this painting to serve as a reminder for myself and others to stay positive and hopeful.
When I step back from the easel and feel the weight of everything that's going on, I do two things. First, I rest. Then I turn to books about creativity or the artist's process. I reread bookmarked pages and find new understanding of things I thought I knew and the motivation to explore things I know nothing about.
I switch to fiction when I want to have my mind wrapped around something completely different and that's sort of where the magic really happens. When I least expect it, I find quotes that resonate with me which later become inspiration for new work.
When I feel restored, I head back to the easel to paint. Sometimes what comes out is crap but I've learned that the act of continuing to do the work is most important. If you show up enough creativity will find you.
---
Lakeshia T. Reid's Contact Information