---
Artwork Statement
About the Artist
---
Artwork Statement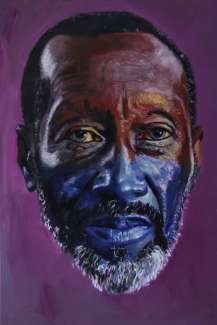 Cyanosis is an ongoing painting project. The term cyanosis refers to a blueness of the skin that results from poorly oxygenated blood. In this series, the term functions as a metaphor for varying levels of deprivation of psychological, social, or emotional needs. Thomas has dedicated the past 14 years to making representational paintings of the people in his social circle. 
The question of anonymity or upending anonymity is relevant in this series, in that most of the paintings are named after a significant female figure in the subjects' lives. Jenna's First. Tamara's Father, Lindsay's Friend… This titling method is a way of reinforcing the idea that the strangers that we encounter are loved by at least one person, asserting that this fact, rather than their personal achievements or renown, is what makes their humanity worth recognizing.
About the Artist
William Paul Thomas is a painter, photographer, and videographer who creates pictures as a way to capsulize his broad, ongoing exploration of the human condition. He chooses specific models as a way of recognizing their significance in his life's path, often drawing on his immediate social network to offer complex representations of people of color. He integrates text and other symbols into the portrait work to narrow the subject matter and complicate the viewer's understanding of the subject's identity.
A 2016 Ella Fountain Pratt Emerging Artist Grant helped fund the production of Thomas's multimedia portrait project Mood Swings, three paintings of which were included in the exhibition RACE: Are We So Different exhibition at the North Carolina Museum of Natural Sciences. That same year, he was the Durham Art Guild's Artist in Residence at Golden Belt Artist Studios and he had a #PPGArtists residency at Duke's Power Plant Gallery. Thomas was the Brock Family Visiting Instructor in Studio Arts at Duke during the 2017-18 academic year. He received his B.F.A. in Studio Art from the University of Wisconsin-Whitewater and his M.F.A. from the University of North Carolina-Chapel Hill.