---
Artwork Statement
About the Artist
---
Artwork Statement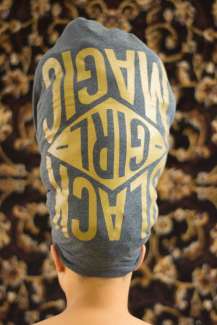 A Radiant Revolution I was inspired by graphic t-shirts featuring phrases such as "My Black is Beautiful", "Strong Black Girl", and "Black Girl Magic". The t-shirts are captured in a series of photographs that relate these expressions of empowerment to the history of head wraps. There was a time in history when sumptuary laws* banned Black women from showing our hair. However, the head wrap then and now represents courage, ancestry, collective identity, and a uniform of rebellion that signifies the resistance to loss of self-definition.
*Sumptuary laws are laws that try to regulate consumption. ... They were used to try to regulate the balance of trade by limiting the market for expensive imported goods. They made it easy to identify social rank and privilege, and as such could be used for social discrimination. The tignon laws were a result of the sumptuary laws.
The tignon laws were passed in 1786 by Governor Esteban Rodriguez Miró and aimed to prohibit 'creole women of color from displaying excessive attention to dress in the streets of New Orleans'. The law stipulated that they must wear a tignon (a type of head covering) or scarf to cover up their hair. This was meant to cover any adornments that were added to their hair, such as beads and jewels.
About the Artist
Stephanie J. Woods is a multimedia artist from Charlotte, NC, currently based in Albuquerque, NM, where she is an Assistant Professor of Interdisciplinary Art at UNM. Her work fuses a relationship between photography and fiber. Additionally, her passion for interdisciplinary practices and material language is evident through her collaborations and implementation of symbolic materials that examine performative behavior, domestic spaces, and alternative realities that reference Black American culture and her experiences growing up in the American South. 
Woods' earned an MFA in New Media Sculpture and is the recipient of several residencies and fellowships, including Black Rock Senegal, the Fine Arts Work Center fellowship, ACRE Residency, the McColl Center for Art + Innovation, Ox-Bow School of Art and Artists Residency, and Penland School of Craft. Her work is featured in the permanent collection at the Virginia Museum of Fine Art, located in Richmond, VA. She has also exhibited her work at Smack Mellon, located in Brooklyn, NY, and Tiger Strikes Asteroid, also located in Brooklyn, NY. Additionally, her work has been featured in BOMB Magazine, Art Papers, Burnaway, and the Boston Art Review.