---
Artwork Statement
About the Artist
---
Artwork Statement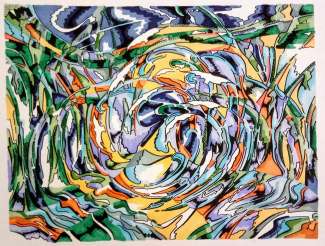 "I've been exploring how isolation can impact a person's thought process. Originally, the work was meant to satisfy feelings of being separated due to chronic illness and determine how to communicate those feelings to an audience. However, at the onset of the enforced pandemic isolation, these feelings became something the community is experiencing on a mass scale. Isolation is affecting all of us in different ways." - Robyn Scott
During the last year, solitude became a shadow hard to shake. Shadows can be the subject of life, but they also produce a sense of light when they create negative space. Community, family, and friendships all become brighter in contrast to solitude. This feeling split life in two and added to a sense of duality that Scott explores in her artwork, both aesthetically and metaphorically.
About the Artist
Robyn Scott studied art at the University of California, Irvine, and the Winchester School of Art in England and has enjoyed exhibiting their work since 2001.
She explored drawing and printmaking as mediums before settling into her current body of work in pen & ink, which focuses on the mood color can create and emotions that are elicited by varying color combinations. Scott creates art to explore what she observes in her environment as well as her reaction to it.