---
Artwork Statement
About the Artist
---
Artwork Statement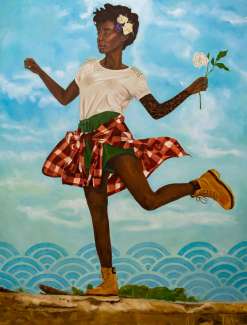 "The Cause of Miracles is my take on The Fool Tarot Card which essentially represents new beginnings and having faith in the future." - Lakeshia Reid
The woman in the painting is at the beginning of her journey and she's found a rose growing in an unlikely place. She's about to take her first step into the unknown. Even though she doesn't know where she's going, she's being called to commit to a leap of faith. She believes that now is a time when she needs to trust where the Universe is taking her. So, she goes forward.
Reid's most recent collection of paintings and collages is based on her need to create works that are more reflective of current events and the growing need for self and cultural acceptance. Beauty has preconceived notions associated with it but is up for reinterpretation and should be redefined. The work centers around the idea that there are fibers, threads, and patterns that unite us despite our differences. At the root of it all, there is a need for us as a people to love ourselves and this message can transcend all boundaries.
About the Artist
Lakeshia T. Reid is a self-taught artist who lives and works in North Carolina. She received a B.S. in Graphic Design in 2011 and worked as a Graphic and Web Designer until she began painting portraits in 2017. Her background as a designer helps her create works that nod to the fantastical while offering interpretations of #BlackGirlMagic—a phrase/movement that celebrates positive messages and images of black women.
Her work has been exhibited regionally in juried shows at the National Humanities Center, the African American Atelier and the Greenhill Center for North Carolina Art. She completed residencies at Artspace (2019) and Anchorlight (2020) in Raleigh, NC.
She is currently a full-time artist and owner of 311 Gallery in Raleigh, NC.