---
Artwork Statement
About the Artist
---
Artwork Statement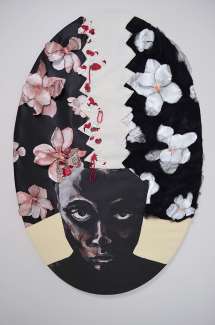 The North Carolina-based artist, Jasmine Best, uses her memories and manipulations of her memories to create dialogues about the black female identity in the south and predominately white spaces. You Would Be Pretty is a collaboration of two memories dealing with black beauty ideals. The title derives from a statement heard often from those who believe that black women and girls should always subscribe to Eurocentric beauty standards and chemically straighten their hair. The collage uses components normally used to depict beauty to represent something ugly and painful.
About the Artist
Jasmine Best is a true Southern Artist, gathering narratives from her Carolinian family and childhood. Her work often depicts maternal figures, each depicting the diversity and qualities that make up the black southern women in her life through several generations.
After her animated short film "a Change of Heart" won first place at Mercer University's spring film festival, Jasmine switched course from her engineering background to pursue art. It was then that she attended the University of North Carolina at Greensboro where she found her love of working with tangible and traditional mediums combined with digital means of art-making. With a BFA in New Media and Design, she processes skills as an animator, collage artist, mark maker, and designer who tailors her visual mediums to each project.