---
Artwork Statement
About the Artist
---
Artwork Statement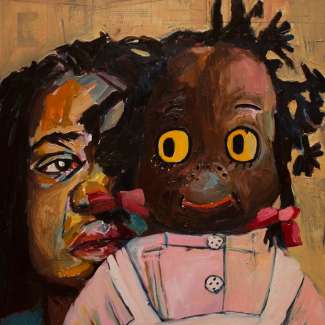 A dear friend found the doll shown in Time Travelers on an auction site. She won the bid and immediately gave her to me. I've received several black dolls over the years from friends and strangers. I found most of them unattractive and felt no connection with them. Some were racist Golliwog dolls. 
But this doll was different. She reminded me of myself as a child. I did not grow up with black dolls. The few dolls I had were white, with blonde hair and blue eyes. I loved my dolls, but I was aware that they did not reflect my image. This doll, whose name is Grace, is the doll I dreamed of. I found her cute and innocent. I fell in love with her instantly and was moved to paint her. 
Grace is a reflection of me and my inner child. I was the youngest of three girls and very shy. I felt invisible most of the time, as my oldest sister was mentally disabled and my middle sister was very outgoing. Together, they were colorful and took up all of my mom's attention. Today, I am investigating my relationship with my little self and hoping that we can co-exist in this world I've created to date. I give voice and speak for those often left in the margins, like my sister Renee who has the mindset of a third-grader even though she is currently fifty-nine years old. 
I try to negotiate with my little self to not be afraid to speak up and speak out. It's not always an easy relationship. She constantly reminds me that "as a southern lady, I have to be nice and just look pretty, but remain quiet." Grace has become an important muse in my paintings, reminding me of what it is like to grow up Black in the American South, and how this continues to impact me even as I move forward.
Methods and Materials
I painted Time Travelers in oil on canvas, mixing all the colors using a primary palette of two reds, two blues, two yellows, and white. The backgrounds are collaged pattern pieces, symbolic of the sewing and stitching of the dolls.
About the Artist
Beverly McIver is widely acknowledged as a significant presence in contemporary American art and has charted a new direction as an African American woman artist. She is committed to producing art that consistently examines racial, gender, social and occupational identity.
McIver was born in Greensboro, North Carolina in 1962. She is the youngest of three girls born to Ethel McIver. Her oldest sister Renee is mentally disabled, with the mindset of a second-grader. Beverly is Renee's legal guardian. Renee is a frequent subject of the artist, as are other family members.
"Raising Renee", a feature-length documentary film produced in association with HBO by Academy Award-nominated and award-winning filmmakers Steven Ascher and Jeanne Jordan, tells the story of the impact of McIver's promise to care for her sister when their mother dies. The film played in festivals around the country and was nominated for an Emmy Award for Outstanding Arts and Culture Programming.
McIver's work is in the collection of the National Portrait Gallery at the Smithsonian, the North Carolina Museum of Art, the Weatherspoon Art Museum, the Baltimore Museum of Art, the NCCU Museum of Art, the Asheville Museum of Art, The Crocker Art Museum, the Nelson Fine Arts Center Art Museum at Arizona State University, the Nasher Museum of Art at Duke University, the Cameron Art Museum and the Mint Museum as well as significant corporate and private collections.  McIver is currently the Ebenshade Professor of the Practice in Studio Arts At Duke University.  She was the Suntrust Endowed Chair Professor of Art at North Carolina Central University, 2007-2014. Prior to this appointment, McIver taught at Arizona State University in Tempe, AZ. for twelve years, Duke University, North Carolina State University, and North Carolina Central University. She has also held residencies at many of the nation's leading artist communities, including YADDO, the Headland Center for the Arts, Djerassi, and Penland School of Arts and Crafts. She has served on the board at Penland and currently serves on the board of directors at YADDO in Saratoga Springs, NY.
Recent honors include a yearlong residency at the American Academy in Rome, where she was featured in a Beverly McIver e il colore nero, a documentary for Italian television.  In 2017 she received the lifetime achievement award from the Anyone Can Fly Foundation in a ceremony hosted by Faith Ringgold.  McIver was named as one of the "Top Ten in Painting" in Art in America in 2011, and her work has been reviewed in Art News, The New York Times, and a host of local newspapers.  She has received numerous grants and awards including the Anonymous Was A Woman Foundation grant, a John Simon Guggenheim Fellowship, a Radcliffe Fellowship from Harvard University, a Marie Walsh Sharpe Foundation award, a distinguished Alumni Award from Pennsylvania State University, a Louis Comfort Tiffany Foundation Award and Creative Capital grant. She had a solo exhibition at the North Carolina Museum of Art in 2011, and at the Mint Museum in 2012. During the fall of 2014, McIver was Artist-in-Residence at the McColl Center for Art + Innovation in Charlotte, N.C.
McIver received a Master of Fine Arts degree in painting from Pennsylvania State University and an honorary doctorate from North Carolina Central University.