---
Artwork Statement
About the Artist
---
Artwork Statement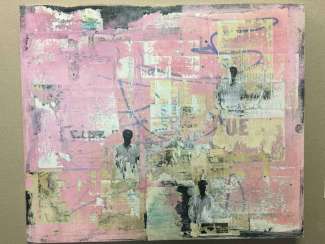 My interdisciplinary practice is an investigation of power, perception, and fear as they relate to institutional inequality. I have created a mythology about the complexities of contemporary Black life. My artwork is influenced by social science fiction and sci-fi literature from such authors as Octavia Butler and H.P. Lovecraft. Themes in science fiction, such as relationships to what may be considered a foreign or alien body, can be analogous to the many Black experiences in America. With that, I explore what is called "monster culture" through the lens of critical race theory. The result is a process-based practice involving mixed-media installation, painting, drawing, collage, and assemblage.
Much of my work references the west coast Black arts assemblage movement of the 1960s and 70s, arte porvera, as well as the Dadaist, who appropriated and re-contextualized images from society as a subversive act. In the vein of Felix Gonzales-Torres, I am interested in making the personal, public. Therefore, these works are inspired by personal experiences from a rural working-class upbringing in Red Springs, North Carolina that related to wider contemporary concerns of race, class, and masculinity. Inspired by the Amiri Baraka poem "Something in the Way of Things", these works live in the intangible spaces that exist within the contradictions of the human condition.
About the Artist
Antoine Williams' mixed-media work investigates his cultural identity by exploring power, fear, and the perception of signs within society. Heavily influenced by science fiction, and his rural, working-class upbringing in Red Springs, North Carolina, Antoine has created his own mythology about the complexities of contemporary Black life. An artist-educator, Antoine received his BFA from the University of North Carolina, Charlotte, and his MFA from UNC Chapel Hill. He helped start the God City Art Collective in Charlotte, where he participated in a number of socially engaged, community-based art projects, such as pop-up art shows, afterschool art programs, underground rap shows, and film festivals. He has exhibited in a number of places, including at the Mint Museum of Art, Michigan State University, Columbia Museum of Art, Smack Mellon, Brooklyn, 21c Museum, as well as many other venues. He is also a recipient of the 2017 Joan Mitchell Award of Painters and Sculptors. Williams is an assistant professor of art at Guilford College.