---
Group Artist Interview
About the Artists
---
Breathe: Life After Death is an exhibition and social exercise featuring four emerging African American North Carolina-based painters. The exhibition explores American life during and after the pandemic, worldwide protests for racial equality, and the consequences of social distancing. In addition to other works, artists William Paul Thomas, JP Jermaine Powell, Telvin Wallace, and Clarence Heyward each paint one of the other artists to showcase how they see each other and create an opportunity for being seen. The body of work aims to empower individuals in local communities through representation.
There is something authentic, as well as effectual, in these portraits. These subjects are deemed worthy enough to be painted and documented in a manner that can work to change the Western canon, which has historically dismissed black men and women from inclusion. In the past, they have been consistently rendered invisible from the standard that is accepted as exemplary or exceptional. Much like the uncomfortable feeling of being the only black person in a crowded room, the sparse depictions of racial minorities in our museums, galleries and cultural institutions leaves people of color without representation and feeling like outsiders. This systemic creation of otherness is used to deny the humanity of minorities and is at the root of racial injustice.
Thomas, Powell, Wallace, and Heyward aim to create a space for conversation about their personal communities through intimate portraiture that encourages the viewer's investigation. By painting subjects that reflect the artists' own personal connections, they each find ways to celebrate black culture and mirror the broader interests of the community.
Group Artist Interview
In addition to a group interview, the artists have been individually interviewed about Breathe: Life After Death as part of The Black On Black Project's Curated Conversations.
The interviews will premiere every Wednesday through September 16 and can be found below on the artists' virtual gallery pages and on The Black On Black Project's website and social media.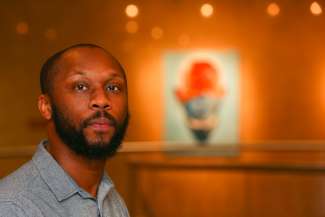 William Paul Thomas
William Paul Thomas' work is centered on making images to record his life experiences and observations, with an approach that defies standard documentary practices. For more than 10 years he has created intimate painted portraits of everyday people that he chooses as a way of recognizing their significance in his life's path.
View William Paul Thomas' work and Curated Conversations interview
---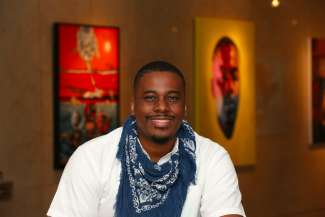 JP Jermaine Powell
JP Jermaine Powell's paintings explore the complexities of human relationships, materialism, and consumerism.
View JP Jermaine Powell's work and Curated Conversations interview
---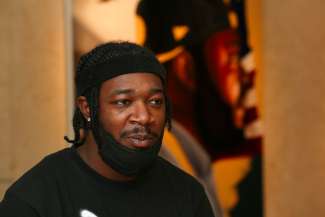 Telvin Wallace
Telvin Wallace's mesmerizing and psychologically charged work brings viewers face to face with contentious cultural issues while proclaiming the resilience of the human spirit.
View Telvin Wallace's work and Curated Conversations interview
---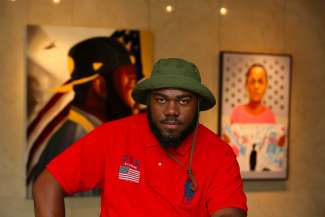 Clarence Heyward
Clarence Heyward's work investigates cultural truths, challenges stereotypes, and questions identity. Clarence believes it's important to "paint his truth" and uses persons of color as subjects in his work as an homage to his culture.
View Clarence Heyward's work and Curated Conversations interview
---