---
2019 Presentations
Summit Agenda
Sponsors
---
The 2019 Triangle Smart Cities Summit was held on Oct. 16, 2019 at the Raleigh Convention Center. Themes included digital inclusion, smart city accomplishments, academic research, connectivity and Internet of Things (IoT).
The next summit will be on Jan. 15, 2021 and has been renamed the Connected Communities Conference.
2019 Presentations
Presentations in 2019 were recorded. You can view the full recordings on digital inclusion, artificial intelligence, maps and transportation, and more.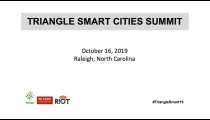 2019 Welcome Remarks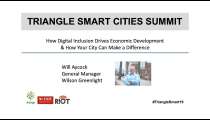 How Digital Inclusion Drives Economic Development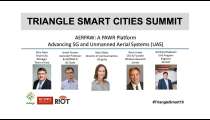 Advancing 5G and Unmanned Aerial Systems Communications
Summit Agenda
Time
 

8 a.m. - Doors Open
8:30 a.m. - 8:45 a.m. - Welcome Remarks
8:45 - 9:30 a.m. - "How Digital Inclusion Drives Economic Development and How Your City Can Make a Difference", Will Aycock, City of Wilson
9:30 - 10 a.m. - "Smart Cities & Maps: A Global Perspective" Mansour Raad, Esri
10 - 10:30 a.m. - "Where We are as a Region" Nicole Raimundo, CIO, Town of Cary
10:45  -11:45 a.m. - "AERPAW: A PAWR Platform – Advancing 5G and Unmanned Aerial Systems (UAS) Communications", Terry Yates, Moderator, Town of Cary;
- Darshan Divakaran, NC Department of Transportation;
- Ismail Guvenc, NC State University;
- Gerry Hayes, North Carolina Wireless Research Center;
- Joe Kochan, US Ignite;
- Noah Otto, City of Raleigh