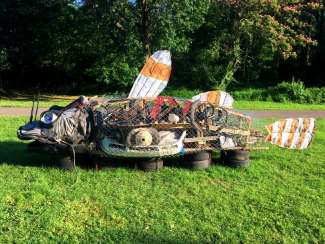 What in the world is that thing on the greenway? That is a Trashfish. A trash catfish, actually.  
This temporary art installation along the greenway at Walnut Creek Wetland Park, is a collaboration between City of Raleigh Stormwater, City of Raleigh Arts, and Walnut Creek Wetland Park, to highlight the importance of clean water. In addition to this art, two Green Stormwater Infrastructure (GSI) projects will be installed on Peterson Street later this year. They will trap and filter stormwater before it empties into Little Rock and Walnut Creeks.  
Wetlands have been historically used as dumping grounds, before people understood their critical importance as habitat for wildlife, a filter for trash and pollutants in our water and for helping to mitigate flooding. The wetlands around Walnut Creek are no exception, and even to this day, it is a struggle to remove carelessly and purposefully discarded trash as fast as it can appear.  
The artists of the "trashfish" art installation, Jaclyn Bowie, Nyssa Collins and Anna Wagner, looked for inspiration as they collected trash from Walnut Creek. They discovered a small catfish taking refuge inside the rim of a tire.  Like all wildlife who need a healthy habitat to survive, this native catfish, the Carolina Madtom, struggles to survive in urban waterways that are inundated with trash, sediment and pollutants. Using 800 pounds of  trash collected from the creek and wetland, and the inspiration of the Carolina Madtom catfish, the artists created the "trashfish" which can be seen at the intersection of the Little Rock Creek Greenway and Walnut Creek Greenway at Walnut Creek Wetland Park. With help from several youth working with the Youth Conservation Corps, they also created an additional art display of some of the wildlife that also depend on clean habitat. The low-relief art of a turtle and a heron was created using trash the youth collected during their service.
What can you do with found trash?  Check out this video of a snake bubbler that you can make with a clean bottle!