May is National Bike Month, an annual celebration of biking and its many benefits. The City of Raleigh has been hosting free events to encourage new and experienced cyclists to get out and ride this month. The month kicked off with the Bike-it List, held during the first ten days of May for the public to explore the city as they searched for decorated bike racks located at participating Raleigh Parks centers. City parks were asked to decorate their bike racks so patrons could stop by, take a selfie with their bike and the bike rack, and receive a bike prize pack. Walnut Creek Wetland Park was the only nature preserve on the Bike-it List, and it's no surprise that the park staff decorated the bike rack to be all about nature!  Stephanie Taylor, Bella Insignares, Olivia Gregg, and Sam Dagenhart each chose a nature theme to apply in paint to the bike rack, which was then sealed.  The Bike-it List challenge may be over, but the bike rack art is here to stay – ride over to check it out, take a selfie, and station your bike while you visit the park. We hope our bike rack artwork will last for many more bike months to come!
 
Not only can many of our Nature Preserves and Outdoor Recreation Parks be accessed by bike via the greenway trail system, several of the sites have bike-friendly trails within the park or preserve. Forest Ridge Park has 3 miles of single-track mountain bike trails including both a 2-mile loop and a 1-mile loop. Check the trail status before heading out, as trails may close due to adverse weather and environmental conditions. Lake Johnson Park has approximately 2.8 miles of paved greenway loops around the east side of the lake, and unpaved bike trails as well – look for signs marking trails that are not accessible to bikes. Durant Nature Preserve allows mountain biking on designated trails only when trail surfaces are dry – please call the park office to check the status of those trails and look for signage at the entrances and trailheads.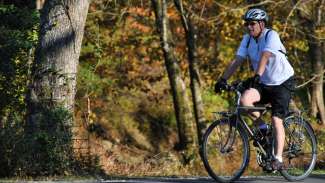 Looking for opportunities to bike with others, or learn about bike maintenance? Forest Ridge Park offers bike-related programs throughout the year. If you missed the bike maintenance program, you can catch another one in July. For details and registration, visit the RecLink Activities page and search for the keyword "bike."
Learn more about celebrating Bike Month in the City of Raleigh and enjoy the ride this May!