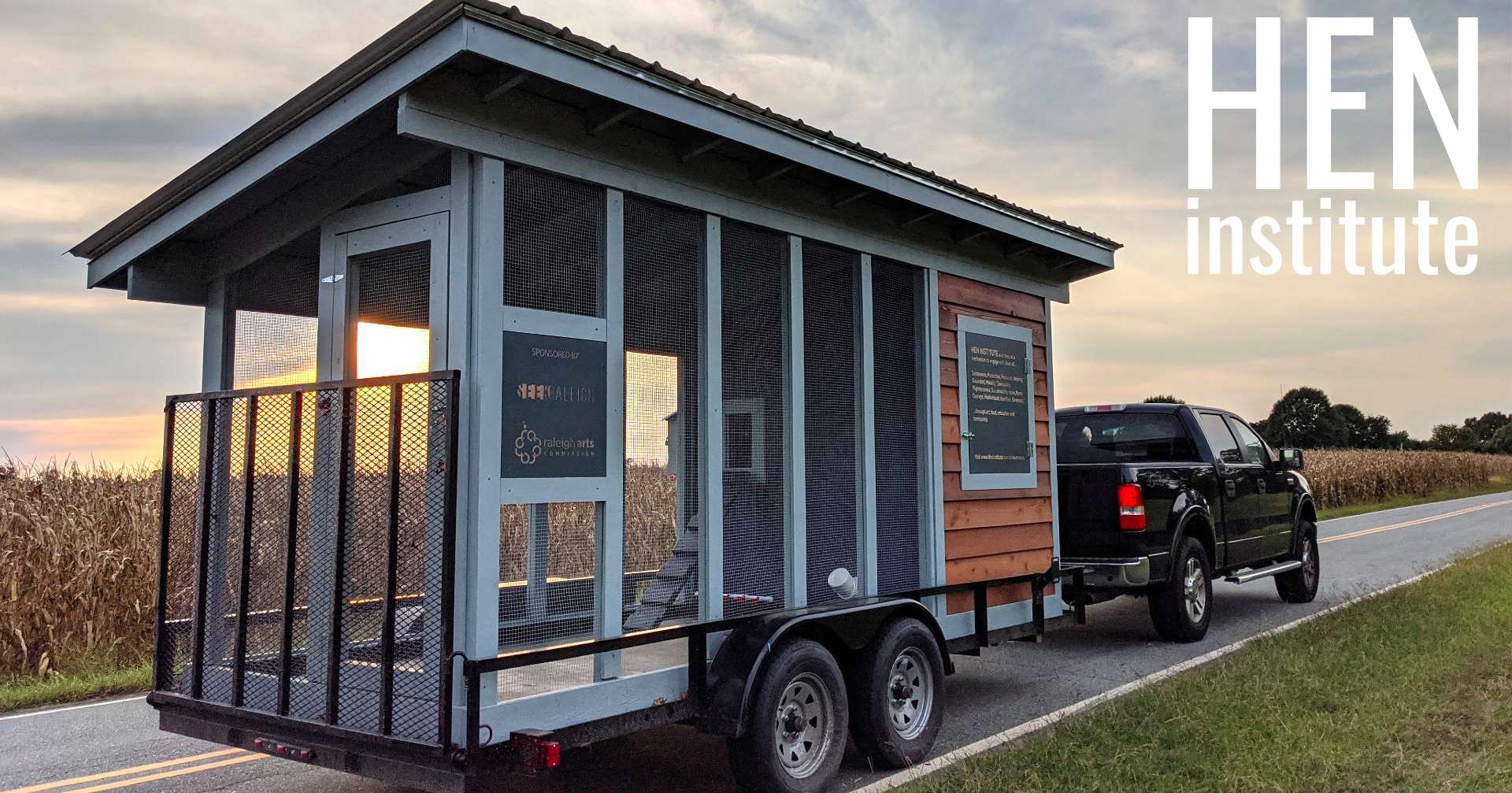 Hen Institute is a public art project sponsored by the Raleigh Arts Commission as part of SEEK Raleigh. It is composed of a mobile chicken coop and classroom inhabited by egg laying chickens. Hen Institute invites artists and community members to use hens as a curatorial framework to create artistic, community-based, and educational programs. Themes include but are not limited to, sustenance, protection, feminism, immobility, nesting, community, sustainability, home, rural, courage, motherhood, nutrition, and generosity.  
Occurring at a variety of outdoor locations throughout the city of Raleigh, an assortment of creative and educational performances, exhibits, lectures, and workshops will happen on site at the coop. Community meals created off-side by guest chefs using eggs produced by the hens will compare ideas of creative and educational nourishment to food related nourishment.
Hen Institute's first stop will be October 7 - November 8, 2020 outside of Sertoma Arts Center. Throughout the month there will be various creative and educational projects happening on site, including 'The Way of The Hen,' a socially distanced meditation and slow looking exercise on October 17th at 12pm. After its stay at Sertoma Arts Center, the mobile chicken coop will return in Spring 2021 at various outdoor locations across Raleigh.
Visit Hen Institute's website to learn more about upcoming programs, to curate or produce an educational, artistic, or community based project on site, or to request a visit by Hen Institute in your own neighborhood!
---
About the Artist
Hen Institute is created by Adam Carlin, a curator, arts administrator, and social practice artist that lives and works in Greensboro, North Carolina. He is currently the Director of Greensboro Project Space, an off-campus contemporary art center at the University of North Carolina - Greensboro, and Director of Community Engagement for UNCG's College of Visual and Performing Arts where he creates and supports community engaged programs and advances partnerships between the college and the community. He is also a lecturer at UNCG in the Interdisciplinary Art and Social Practice program. Carlin is also co-founder and co-Director of Creek Colleges, an organization that creates schools on the banks of rivers, lakes, and creeks that are going through active restoration. His work often takes the form of institutes as artworks that enact projects which highlight under-recognized histories, idiosyncratic activities, and public dynamics. Participation and collaboration are integral to his practice and he often works site and situation-specifically.  He has a BFA from California College of the Arts and an MFA in Art and Social Practice from Portland State University. Carlin has curated public programs or was a guest lecturer at places like the Queens Museum, Universität der Künste Berlin, UMass Dartmouth, Portland City Hall, Elsewhere Living Museum, ZERO1 Museum, San Francisco Art Institute, Georgia State University, and The Mondavi Center at UC Davis.
Learn more about Adam Carlin's work
---