---
Artwork Statement
About the Artist
---
Artwork Statement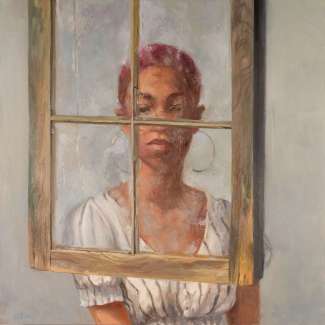 Alia El-Bermani uses the portrait to reveal introspective stories about the complexity of what it is to be human, as well as to try to deeply connect with another. Various uses of objects and techniques in the artists' work partially obscure the figure, creating ambiguity that reflects the universal intangible.
"There is a place that can be entered through the act of painting. An internal, unconscious place; where instinct outweighs intellect; where thoughts and images mingle freely. It takes time to warm up to this place. Sometimes we never reach it, but this is where my passion springs from. This is where I find my best work. My paintings follow two subject matters, the human figure, and the still life, but rely on one method, observation. Using direct observation, I have developed a painterly approach to representation." - Alia El-Berman
About the Artist
Alia El-Bermani was raised in a small town just south of Boston, where she spent most of her childhood enjoying the outdoors and discovering the natural history of the south shore of Massachusetts. She received her BFA in 2000 from Laguna College of Art and Design in Laguna Beach CA. This talented figurative painter has had several solo exhibitions as well as her work featured in numerous group exhibitions across the country. Her paintings and drawings have been showcased in museums such as the Palm Springs Desert Museum in California, Customs House Museum in Tennessee, Anchorage Museum of History and Art in Alaska, West Valley Art Museum in Arizona, Museum of Contemporary Canadian Art in Toronto and the Greenville Museum of Art in North Carolina. In 2015, her painting Paper Wishes was acquired by the Museu Europeu d'Art Modern (MEAM), in Barcelona, Spain for their permanent collection. She is also a seasoned instructor who has taught at both the college and workshop levels. El-Bermani has been an honored guest lecturer at several universities including East Carolina University, Meredith College, Laguna College of Art and Design, and Texas A&M University. She is a member of the Portrait Society of America as well as a co-founder of the important blog Women Painting Women. Several articles have been written on her work in such periodicals as American Art Collector, iArtistas, ArtSee, Art Week, The Independent, LA Weekly, and the Savvy Painter Podcast. She currently works out of her studio in Raleigh, NC as an artist, teacher, and independent curator.